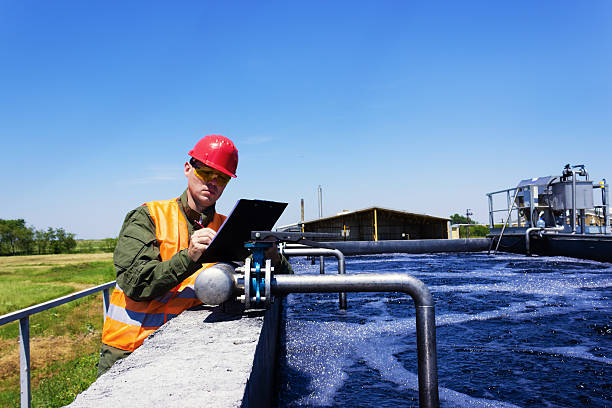 Sewage Treatment Plant Manufacturers In India
Our company has a huge number of clients list. This list includes some well-known names like South Central Railway, Bharat Electronics LTD (BEL), HCL Power System LTD, Indian Immunologicals LTD, Siris Corp Sciences LTD, Greater Vishakapatnam Municipal Corporation, Osmania General Hospital, etc.
Sharp Engineering Works
started its journey in the year 2004, our aim is to provide the best quality products and water service for residential and commercial purposes. We have served more than 1000 satisfied customers in the last 15 years.
Sewage Treatment Plant Uses
The sewage plants are used to transform the wastewater into clean water for domestic use. It consists of physical, chemical and biological processes which remove the contaminants present in wastewater put through different stages to provide an effluent suitable for re-use. A sewage plant is a facility that treats human waste and releases it into the environment. They are typically used to treat wastewater from residential, commercial, and industrial sources.
The
wastewater treatment plant
also known as the sewage treatment plant or simply a septic tank, is an efficient sanitation system that can clean wastewater produced in homes, industries and other places. It works by removing wastes from water through natural processes of adsorption, chemical precipitation, biological degradation and other methods.
STP is the best solution for the treatment of wastewater. This system helps us to get rid of so much water and produces enough freshwater same as it was underground.
Sewage Treatment Plant for Residential Buildings
With us, you can find a complete and cost-effective STP in the market. We produce and supply in India and our products are known for their quality. Our Sewage Plants are specially used for treating domestic wastewater. It can be used for STP applications at factories, hospitals, residential colonies, hotels, etc. In STP applications, it provides a very high level of effluent treatment at the plant level. The plant will have a compact size and ensure no sludge accumulation.
Our Business is running through the following norms:
1. Raw Material used is of high quality on basis of international standards.
2. We follow up the process for manufacturing on a global level.
3. Plant is environment friendly and cost-effective.
4. Long life span (10-15 years) of our plant without any maintenance of the system.
5. We manufacture STPs that are long-lasting and durable.
6. Our installations are environment-friendly and cost-effective.
Our latest technology  not only purifies liquid waste but also produce chemical-free sludge which can be used as manure in horticulture. With the help of the latest sewage and wastewater treatment technology, we can assure you quality product and all plant is made with most recent technology.
What is Underground Sewage Treatment Plant (STP)
Finding a solution for cleaning and recycling of waste water/sewage from the city and industries proved prohibitively expensive. Sharp Engineering was founded in the year 2004 by a group of enthusiastic young Engineers. We provide reliable, state-of-the-art
Sewage Treatment Plants
(STPs) which are economically designed for Worldwide deployment. We are suppliers of the best quality Underground Sewage Treatment Plant (STP) in India. The product is well known for its properties like it is easy to use, highly effective and cost-effective.
Our STP Plant manufacturers in Hyderabad offer you an advanced wastewater treatment technology based on Extended Aeration. This system offers very advanced control over the entire cycle, with details enclosed here.
Underground Sewage Treatment Plant (STP) provides a solution for cleaning and recycling of waste water/sewage from the city and industries. The wastewater is discharged and treated properly to remove all kinds of impurities, unwanted constituents and pollutants before returning it to the environment underground through infiltration galleries with minimum impact. Sharp Engineering is popular brand in India for Underground STP.
How much does a wastewater treatment plant cost?
When trying to decide how to treat your wastewater, you'll find that there are many options with different benefits and costs. We specialize in identifying the most effective treatment option for your unique needs. With more than 18 years of experience designing and installing wastewater treatment systems, we will work with you to design the best solution for your specific situation. When it all comes together, information can be helpful at different times in the purchase process.
A wastewater treatment plant is a big investment. So, no matter the size of the facility you're heading to build you need to know how much it will cost. Of course, there are engineering fees, site preparation costs and new land costs to add on top of the filtration equipment and insuring your operation is running smooth on top of that (for normal operations).
Why Choose Sharp Engineering Works?
Sharp Engineering is the high quality manufacturer of Sewage water Plants. Our Leading wastewater treatment plant are widely used in livestock, sludge, wastewater treatment, sludge treatment, waste water treatment etc.
Our sewage treatment plants are compact, providing complete secondary treatment. Easy to install, maintain and operate. Our STP's in a single stage configuration will remove all inorganic and organic pollutants from the waste, including chlorine and ammonia.